2018 Taipei Cycle Show
21/08/18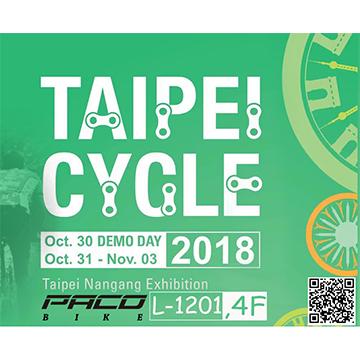 TAIPEI CYCLE, Taiwan's premier cycling trade fair, will be held October 31 to November 3, 2018 at the Taipei Nangang Exhibition Cente Hall 1, 4F.

✔️ Full map
http://booth.e-taitra.com.tw/en-US/m/2018CC/5
✔️Tips:
Use the official Taipei Cycle App to get info on Visitors, Exhibitors, Products, Events, and Floor Plan.
1️⃣️ Badge Scanner: Scan QR code on Visitor's badge to gain contact info in seconds.

2️⃣️ Exhibitors: Search exhibitors by exhibiting area or keywords.

3️⃣️Products: Search products by category or keywords.

4️⃣️ Events: Provide daily events & conference sessions held by the organizer.

5️⃣️ Floor Plan: Interactive floor plan.
✔️ instructional video:
https://youtu.be/omafezw_o1o
✔️Download the free App!
Scan the QR code and download th app.
2018 Taipei Cycle Show
PACO BIKE,Booth No: L-1201 , Hall 1, 4F.